Oh now, this is too hilarious! I just read a comment saying I must be Pgirl/ Pgirl's sister. Err, anonymous poster, I'd love to say I was, but hate to burst your booble (not bubble), but I'm not her. Heck I don't even own a RED Hermes bag, let alone ANY full-on red bags since my Dad passed away (I have retired the color red from my wardrobe completely). THIS photo below shows MY bags. The only hint of red in any of my bags is from the LV Cherry Blossom papillon (which I have used less than 5x )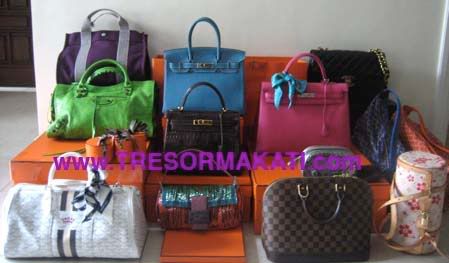 So that is enough proof– those photos I posted (which had tons of Hermes boxes and Hermes orange-red bags) are NOT my bag collection– they were purplegirl's (from her blog). And besides, my house, is completely Zen (aka Empty, NO furnitures, NO fixtures… Because I have NO budget for them!! Meanwhile, Pgirl's place was abound with chandeliers) Case in point: Remember what started this blog in the first place? I needed a COUCH (tossup between a new bag and a couch)!! And look where it has gotten me— STILL NO COUCH (but plenty bag debt)! *Muwahahhaa* So don't bother putting two and two together that I am Pgirl or her relative *ohhh don't I wish I have that kinda moolah for those bags haha*. I don't even know who Pgirl really is, and I reallllly wanna know who she is, believe me! 😀 Heck I wanna play in her mom's bag closet too!
So now, HAGS who've been dreading sending their photo collection because they compare their collection to that of Pgirl's Hermes collection from a previous post? Be afraid you shouldn't. Because we are looking for diversity *i.e. of brands/ of colors/ of styles*, not just quantity. That collection wouldn't have won unless the contest was for the most # of Hermes bags *snicker*. So send photos of your bags already and don't let that photo intimidate!! 😀 I'm sure you hags have way more diversity in your collection *and we love colors colors colors!*
Today was a relaxing day. I spent the WHOLE day sleeping (talk about productive). I would wake up, play with the kiddies, then take a nap. I even didn't eat lunch today, instead opting to just sleep some more (heeyyy I am entitled to be Little Miss Piggledy Wiggle on my bday!)
Last night was more eventful. DH and I went to dinner at Little Tokyo by Makati Cinema Square (Pasong Tamo) at this place called Kikufuji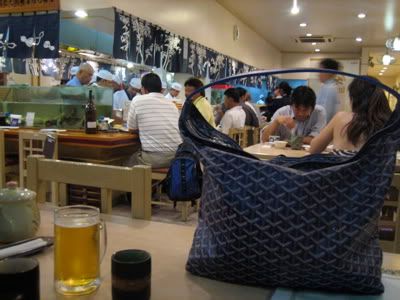 (beside Shinjuku). *Took out my Goyard marine fidji again* I had a whole sashimi platter and 2 bowls of rice, with miso soup,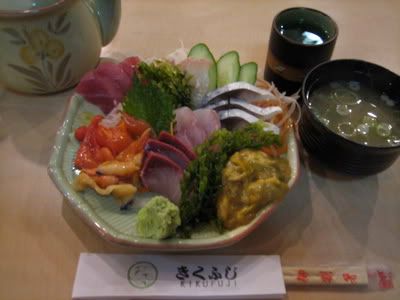 all to myself (I know, TOTALLY pigged out). This was my alternative restaurant from my ultimate fave, Tsumura (Philippine's Nobu). During dinner, I get a message from DaphP asking if I wanted to watch the Bolshoi Ballet Performance that night. My jaw dropped. I would've loved to go (i.e. drop everything I was doing and literally fly to CCP, but nah, DH was with me. Pffffft and we know how men and ballet are… No love lost (hehehe)* Too bad, girl!! 🙁 I would've wanted to watch that soo bad too *sniff, coz there is no way we would be able to see the Bolshoi Ballet perform unless we fly off to Russia or something.. err.. money money money… hehe*
So anyway, post my sashimi dinner, I met up on schedule with my girlfriends KG and CS at Cafe Puccini at the Fort, where again, I ended up eating. This time, my fave there, Gnocco Fritti di Prosciutto.
It is SOoooOoo good even though I'm so "full to the brim" and on the verge of overflowing 😀 *uh oh, gluttony*. I also love their Panna Cotta (although I must say, the one at L'Opera is quite better) *Psst, hags, these are places to take your bag, so take note hehe :D*
We got bored, so we decided, heyyy why not go to some KTV bar *hahahahaha I know, such an Oldie thing to do* and sing our buns out?! (Was I really THAT crazy? I mean I already have a throat problem and here I was volunteering to croak like a frog, with a microphone! * shameless bag hag!!!*) Not really. We ended up at Island Wellness Spa at 11:45PM. This was perhaps the ONLY Spa in this side of Makati that's open. Island Wellness Spa is located right beside Atelier Debbie Co (at Jupiter Place). We all had the foot and back massage (Php 640 for 1hr 15mins). Anyway we already were too tired by the time we walked into the place (it was as if our bodies Knew they were there to be "taken cared of").
So There. I spent my birthday– 12:00AM at a Spa, with my girlfriends, while receiving birthday greets from DaphP, Bryanboy, SharT, EC, AC, DH, RD, NB, VL, JS, and BF.
I got home a few minutes before 2am *I know, bad bad me* And DH and I capped off the "evening" by watching the Season 5 of "24". (I'm hooked!!)
Now, I know, I know. Everyone's dying to find out what loot I got as gifts. Let me start off by telling you that I am in reality unloved (and you hags can already tell why– coz I am a self- centered, biatching, cheap, pretentious, opinionated, self- righteous, shallow, and a pathetic social climbing hag, that's why *muwahahaha*). So the chances of receiving huge-ass gifts or expensive gifts for that matter, are ZERO to NONE (yeah. zero to none). But nevertheless, a gift is a gift is a gift. And rule of thumb is, we should buy the expensive gifts for ourselves, ourselves. 😀 (That's coz DH won't ever buy anything expensive again– he is broke too, like me. Damnit, why adapt BB's and my favorite line!!!! *Ptooooey haha*).
Here are the loots I received: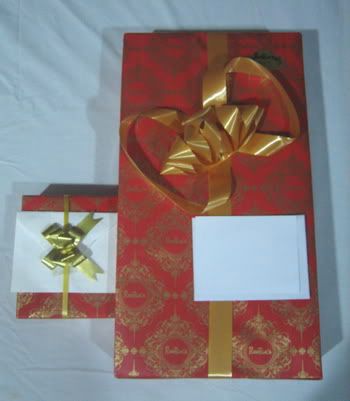 2 Rustan's wrapped presents which contained : Swarovski magnet set of 4 from NB, and a "multiple choice" 4pc trio set from KG (ceramic plates!! Oooh did I tell you hags, I also have a thing for plates? Remember the Turkey bazaar trip? I brought home what, 8 plates! hehehe).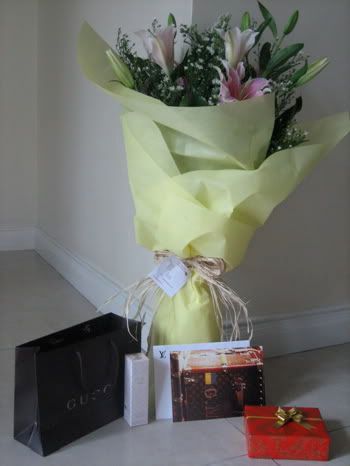 Check it out, a beautiful bouquet of flowers. Before you say, "awww so sweet of DH", let me tell you now, they did NOT come from DH. They came from Louis Vuitton— SA Abby sent them to me 😀 *And THAT is terribly sweet of her, and of LV…. awww does that mean I get to pass by LV tomorrow and pick what I want again? hahaha* And check out the cute card that came along with it!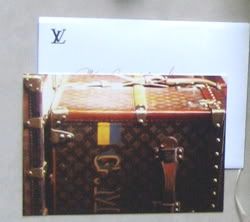 Geez I hope they just sent me that vintage LV trunk as a gift– I'd gladly accept hahaha… Anything to make my house look "fuller" because I have no furnitures *hahaha*. I also got a bottle of Gucci Envy from my DB, *not shown* a Crabtree and Evelyn hand lotion and L'Occitane toiletries set from DSIL and DOB. My DM will pay for my upcoming US trip (with her) as my birthday present *wooohooooo nothing's better than yet another free trip!! Mom knows I can't afford it, nor can DH (he's too cheap muwahahaha), so she took pity on me again :D*

In true "cheap" fashion, DH didn't get me anything *BAWL*. My kiddies didn't write me a cutie card either (and I am actually sorta disappointed about that– coz I would've loooooved THAT!! Ahh well, you can't honestly expect Hubbies to know to do that!) That's it. I felt so unloved. *Double Bawl* I even got more greetings from you hags!! *Triple bawl + sniff sniff BAWL* Seriously, I didn't get anything from DH. And I know, I know… You will all find that hard to believe, but alas, nada, no surprise. He did say though that he meant to take me to Zara to get me an outfit today but I just stayed in bed practically the whole day (Tsk, why oh why can't I just go to LV, carte blanche and all?! HAHAHA ok now THAT is a really bad thing to say *and lightning might just strike me for that* I should stop being so damn materialistic. But hey at least I'm honest about it!!*). Yeah well… 😀 At least I got plenty sleep! But my throat was still no better ( I need to get a laparoscopy next week. Remind me before I chicken out again and pretend to forget)
So anyway, my birthday went fairly alright. Spent time with the people who mattered most to me in my life. It's not really in the gifts which make you want to turn a year older (although hey gifts are always welcome hahaha). It's in the knowledge that your birthday is yet another occasion for friends and family to come together. And it's in that spirit that I realize, I am blessed. So blessed. I may not have gotten a new bag, I may not have an eye popping bag collection, but I do know that I have a great family. And that's my greatest birthday gift of all (awww *sniff this is such an emotional, soul searching, eye opening post!*)
Now, time to collect. DH owes me big time.. Perhaps it's off to Greenbelt 4 we go tomorrow *Guffaw guffaw talk about being a hypocrite!*. TAKE NO PRISONERS on FATHER'S DAY 🙂 *MY TURN!!!! Vengeance is sweet, ain't it? :D*
Nite and HAPPY FATHER'S DAY to all the bag hags' daddies and or hubbies!! 😀
** ** ** ** ** ** ** ** ** ** **
BRAG A BAG COLLECTION:
Miss B's bags were photographed separately (we love the Bottegas and the Chanels!)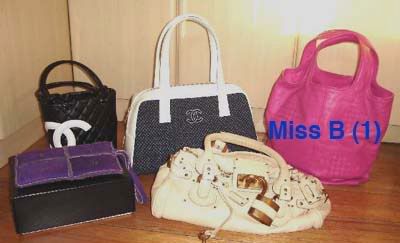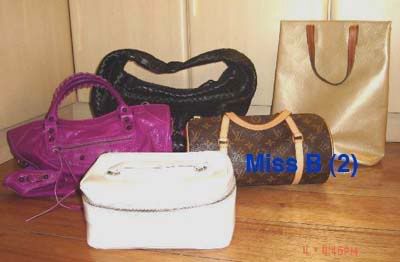 LucyndSkywDiamonds (reputable seller showcases her OWN Hermes bags)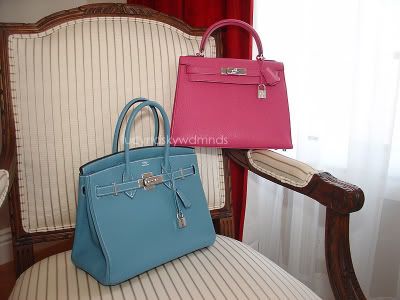 SEND IN YOUR BAG PHOTOS to tresormakati@yahoo.com and GET A CHANCE TO WIN the NEW ANYA HINDMARCH PATENT LEATHER POCHETTE!
Contest ends on JUNE 30. Please see JUNE 17 POST for more details!